A 4-Step Method To Meal Plan Weekly Dinners
Oct 07, 2021
As any Registered Dietitian or Nutritionist will tell you, preparing your own meals is a game changer. That said, we understand that it can be overwhelming to plan weekday meals, shop for the ingredients, prepare the dish, and clean up the mess... not to mention, ensuring the meal is nutritionally balanced! That's why we've decided to share our tried and true 4-step method to save you time, money, and energy – all whilst ensuring you can look forward to delicious and wholesome meals each night of the week!
---

STEP #1: USE THE PLATE METHOD

Use the Dietitian-approved 'Plate Method' as a visual guideline to build balanced dinners.
The Plate Method is a visual tool that helps our Nutrition Coaching clients ensure they are building dinner meals that are nutritionally balanced and satisfying. While there can be merit in measuring or weighing the specific portions of your food for a defined period of time, we find the Plate Method is an easy and accessible tool to visualize a balanced plate in the long term!
We use the Plate Method in tandem with the Fundamental Four Food Groups we teach inside of our Comprehensive Nutrition Coaching program. Depending on the type of meal you are building, you can use the Plate Method as a visual tool in one of two ways:
Organizing your plate in quarter sections (eg. ½ plate volume, ¼ plate carbohydrates, ¼ plate protein, and decorated with fats). This method works well for basic meals where the food groups are clearly separated, such as meat served with vegetables and a starch (as shown in the graphic below).
Identifying the percentage of each food group (eg. 50% of the meal volume, 25% of the meal protein, 25% of the meal carbohydrate, and fats infused throughout). This method works best for meals where the ingredients are mixed together, such as a stir-fry or a chilli.



As Registered Dietitians, our goal behind the Plate Method is not to recommend meticulously organizing our clients' dinner plates in this exact order, or to promote obsessive behaviours surrounding specific percentages; Rather, we recommend using the Plate Method as a template that offers guidance on creating a well-balanced dinner. When using the Plate Method as our guide, we can identify subtle changes to balance our meals in ways that are enjoyable and simple!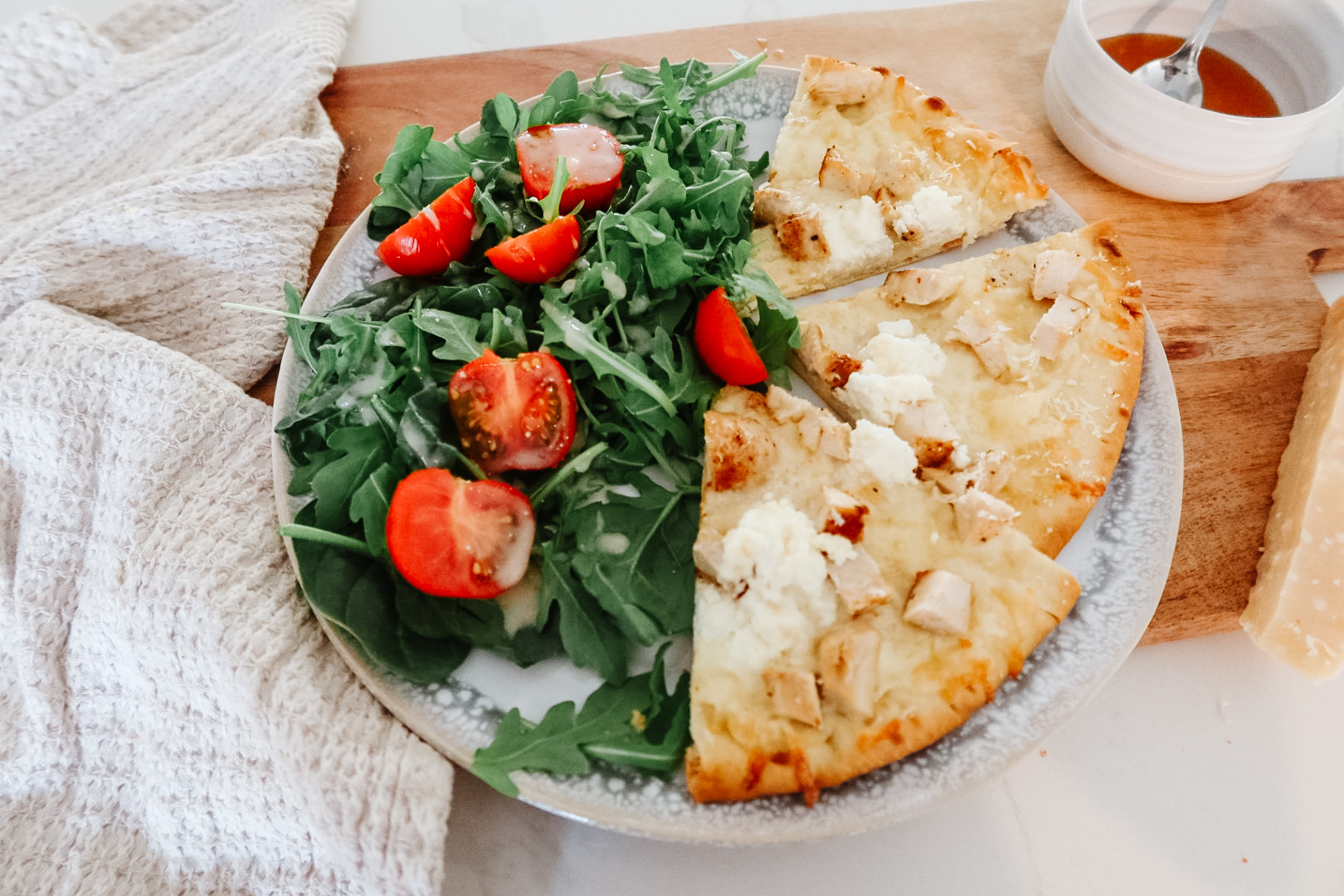 For example, with the Plate Method in mind we might add a salad to complement a homemade pizza. In this way, we can add salad to obtain about 50% of the meal as 'volume' with the remainder of the meal being comprised of carbs (eg. the crust), protein (eg. chicken or beef), and fat (eg. cheese or tahini).


DIETITIAN NOTE: The Plate Method is merely a template to get you started building more balanced meals. If you feel you would benefit from customized recommendations for when, what, and how much to eat to help support your specific goals, we recommend considering our Comprehensive Nutrition Coaching program!
---

STEP #2: IDENTIFY KEY INGREDIENTS


Identify key ingredients to inspire your recipe selection.
Before choosing your recipes, we recommend scanning your current inventory, reflecting on seasonal ingredients, or identifying ingredients that are on-sale at your local grocery store. By identifying key ingredients you'd like to feature, you'll have more direction when choosing your recipes (in the next step!) whilst helping to prevent food waste, ensuring you enjoy nutritious in-season produce, and saving you money!
For example:
---

STEP #3: CHOOSE YOUR RECIPES
Select your weekly dinner recipes and organize them by downloading our free planning template.


Our team of Registered Dietitians at Vitality Nutrition bring ease to the process of planning, cooking, and enjoying dinners by recommending the selection of only one new recipe per week. This avoids the overwhelm that can happen when shopping for new ingredients or navigating unfamiliar recipe instructions at the end of a long day. Our method for choosing our weekly dinner recipes includes:
New Recipe: We love testing new recipes and by trying only one new recipe per week we avoid the overwhelm that can come with navigating new ingredients and instructions. Search our blog for recipe inspiration!
Theme: Rely on a theme night. A 'theme night' is a night where the template of the meal stays the same (so it is easy to plan!) but around which you can mix up the specific ingredients. In our household, we do "Taco Tuesday" – but other Dietitian favourites include building your own pita pizza or burrito bowls.
'Wing It': Many families have a "wing it" night at least once a week where they plan to eat outside of the home – whether that be eating out at a restaurant or going to a friend's for supper. On the other day, you can either rely on leftovers or plan a last-minute dinner idea using ingredients you have in the fridge. In our household, we often rely on "breakfast for dinner" for one of our "wing it" days, and often find ourselves eating out a least once a week.
Tried & True: Our team of nutritionists love to choose a few recipes each week from our data bank of "tried and true" recipes that our households enjoy. Dietitian tip: try storing a list of your go-to recipes in the 'notes' section of your phone, which can easily be pulled from! Examples of recipes that are a part of our weekly rotation include: chicken and mushroom burgers, pita pizzas, creole stew, 'spaghetti' and meat sauce, and

pumpkin curry

.
RESOURCE ALERT: Click here to download our free, Dietitian-designed resource for mapping out your weekday dinners. It even includes a sample week of weekday dinners!
---

STEP 4: MAKE YOUR GROCERY LIST
Avoid multiple trips to the grocery store by reviewing each recipe, checking your inventory, and making a grocery list.


Spending five minutes creating a grocery list will save you time and avoid multiple trips back to the grocery store throughout the week for missing ingredients. After selecting your recipes, we recommend writing out your grocery list with consideration for the inventory you have on hand and any new ingredients you'll need for the week. We like to review the recipes one-by-one to ensure we don't miss any ingredients! For an example of how our Registered Dietitians build their grocery lists, download our free resource to easily transfer the meal plan you've created to a list of ingredients to purchase at the store.
---

BONUS TIP: PREP IN ADVANCE
In ideal settings, dinner can be a meal where more time is allocated for the preparation of the food itself. In these cases, preparing ingredients in advance may not feel necessary. However, if you know you'll be short on time, our Dietitians recommend doing some advanced prep of the ingredients you know can take longer to cook. For example, you might pre-cook chicken breast to quickly add to pita pizzas, prepare seasoned ground beef or turkey to reheat for tacos, or assemble your casserole to throw in the oven when you arrive home!


---
Our team of Registered Dietitians know full well that it can be difficult to find the time (and energy!) to select and prepare healthy and balanced weekday meals. By taking the time at the start of your week to to plan your meals, and by considering the above tips, you'll find yourself enjoying wholesome and rewarding meals more often!

Hungry for more?
Get recipes, tips, and updates from the Vitality Nutrition team straight to your inbox!
Don't worry, your information won't be shared.